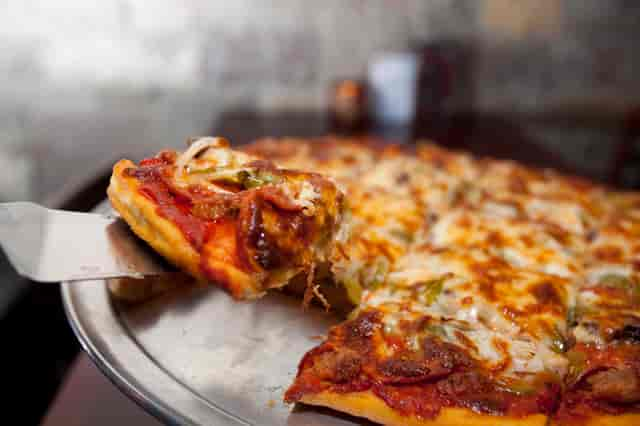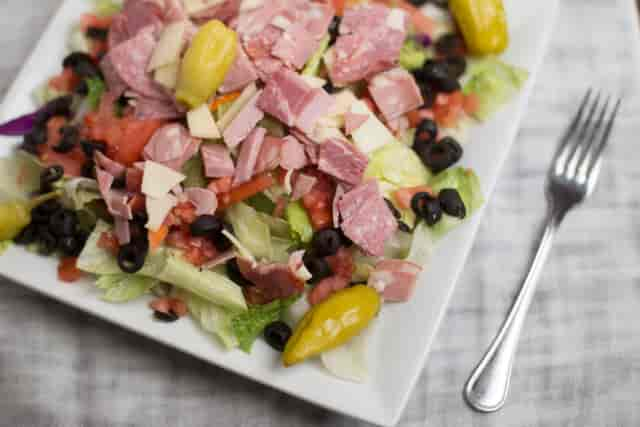 Dine-In Menu
Become a VIP
Receive updates on special events, new menu items, menu reviews, and more!
Dine-In Menu
Pizzas
Begins with traditional Italian thick crust, tomato sauce & cheese. Thin and extra thin crust available upon request. Gluten-free and cauliflower crust available in 10" small only $3. Our specialty pizzas are uniquely created with taste in mind. deletions are okay, no substitution or adding toppings.

Small - 10" | Medium - 12" | Large - 14" | X-Large - 16"

Toppings: Anchovies, Bacon*, Canadian Bacon*, Chicken*, Ground Beef, Ham, Italian Beef*, Pepperoni, Sausage, Artichoke, Black Olives, Green Olives, Green Peppers, Ham, Hot Giardiniera, Jalapenos, Mushroom, Onions, Pineapple, Ricotta Cheese*, Spinach, Tomatoes, Zucchini
*Premium Toppings
Wings
Mounds of giant wings - cooked to perfection and smothered in the sauce of your choice (approx. 7 wings per order)
Sandwiches & Panini etc...
Served with fries or house salad, upgrade to onion rings $3, upgrade to waffle fries $2
Additions: Cheese $1, Hot Peppers $1, Sweet Peppers $1, Avocado $2
Specialty Burgers
Served with fries or house salad, upgrade to onion rings $3, upgrade to waffle fries $2
Additions: Cheese $1, Grilled Onions $1, Avocado $2, Over Easy Egg $1, Sauteed Mushrooms $1, Bacon $1, Bleu Cheese $1
Chicken, Veal, & Seafood
Includes house salad - substitute soup for $1 more
Salerno Signature Dishes
Our family's homemade sauces and dishes that have made us popular for years. 
Includes house salad - substitute soup for $1 more

Additions: Italian Sausage or Meatballs to any Pasta Dish $4, Side of Sweet or Hot Peppers $1, Cheese $1